Home & Office Audio
It's time you cease merely listening to music. From here on out you'll indulge in the entire performance as the artist intended. It's time to take elite home audio to a whole new level and that's just what Stereo Clarity is doing with the new Clarity 2.5 tower speakers. These towers will have you rediscovering your music collection all over again. High efficiency and low moving mass drivers help this set bring you into a new world of fidelity.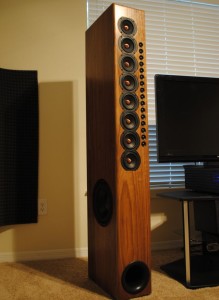 A full size speaker for a life size performance. With a footprint of only 16×8, these speakers don't need much floor space to blow you away. You'll swear you've never heard your music before listening to  this pair. High efficiency and low distortion with the addition of bass tuning options to suit your room will give you the best performance no matter what.
All of your media in one single box. Simple, powerful, and expandable. The OneSource is your gateway into the ultimate music and movie experience. Load up all of  your movies and music; then just plug in your speakers and you're done! The OneSouce houses a CD, DVD, BluRay player, amplifier, and a full function computer. Cut the cords connecting all of your individual boxes. This is the ONLY box you need!