OneSource Media Server
The OneSouce is the only component needed for a complete home media solution. The vision is to put everything inside one enclosure so that connecting cables are a thing of the past. With it's optional integrated amplifier the OneSource truly is the only component you'll need for your home media needs. Just plug it into a power outlet, connect your speakers, and run an HDMI cable to your TV and you're all set! Since the OneSource is based on the Windows 7 platform it's easy to use and offers limitless features. The OneSource media solution can play DVD, CD, BlueRay discs and more importantly it can STORE them internally. Leave your discs in the closet and scroll through your media using it's intuitive and easy to use front end interface that let's you organize by album or movie cover art, title, artist or genre. Netflix and Hulu integration are also built in so having all of your media at your fingertips has never been easier. With it's large internal storage capacity you can store everything in the highest quality format without worrying about running out of space.
CD, DVD, and Bluray playback
Internal amplifier
Netflix and Hulu Integration
Media Organizer
Large internal storage capacity
No more complicated cables
Configurations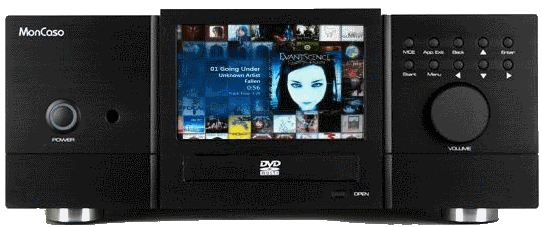 The Theater Junkie
The media solution for people with BIG movie collections. With up to 16TB of available storage you can store all of your movies and music no matter how big your collection is! The Theater Junkie's internal amplifier provides 125watts of power into 7 channels and also has an LFE pre-out for an amplified subwoofer. We also have 8 channel DSP available.
The Audiophile

Pure stereo bliss. This unit is for the dedicated audiophile who wants to enjoy every note. Two channels of 250watts is enough power to reach reference levels in even the largest rooms. The signal chain from beginning to end boasts a 110db signal to noise ratio and an extremely low noise floor for audio so clear you can hear even the faintest of details. This unit can scale up to 6TB of storage and can be used for home theater with the addition of a normal receiver for 7.1 amplification.
All versions of the OneSource media solution come standard with an Intel quad core processor, 16GB of RAM and 3TB of internal media storage. Each unit also has its operating system and programs installed on a solid state drive for blazing fast operation and startup times. Options include additional storage, more RAM, and faster processors. Things like digital signal processing (DSP) and cable tuner cards for TV are available upon request. Each unit is custom built to order and Stereo Clarity will work with you to figure out what options best suit your needs. Please email us for pricing at Steven@StereoClarity.com