SC Partners

CSS is a service-oriented provider of high-value speaker components for the "do-it-yourself" (DIY) loudspeaker builder, as well as custom-finished loudspeaker systems. Owned and operated by Bob Reimer, CSS is located in British Columbia, Canada. CSS has given Stereo Clarity access to a wide range of parts and continues to be an innovator of new DIY drivers. Stereo Clarity is proud to do business with CSS.


A site dedicated to the DIY purist, Frugal-Horn.com is a joint venture between David Dlugos and Scott Lindgren. These brilliant gentlemen have lead the way in full range enclosure design and have brought it to new heights. They also work closely with CSS designing a multitude of enclosures for the DIY purist to experiment with. More about full range enclosure design can be found on their website.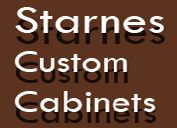 Owned and operated by Tim and Matt Starnes, Starnes Custom Cabinets is located in Glen Rose Texas. Starnes officially opened their doors in 1984 and continues to hold the "like father, like son" tradition. They offer unparalleled woodworking skills handed down from generation to generation and supply Stereo Clarity with beautifully crafted speaker cabinets. Yep, hand built right here in the USA!